Los Angeles Election Division certifies Yehuda YJ Draiman as a Mayoral Candidate in the March 7, 2017 Elections.
News Bulletin - Draiman News Agency - Tuesday, Nov. 27, 2012
Yehuda YJ Draiman is certified as LA mayoral candidate to be on the ballot in Los Angeles elections which will be held on March 7 2017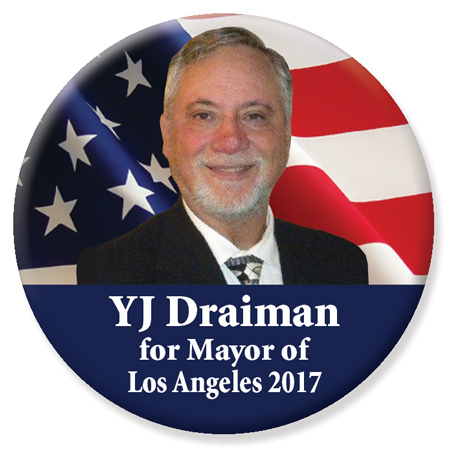 YJ Draiman for Mayor of Los Angeles 2017
9420 Reseda Blvd. PO Box 274
Tel. (818) 366-6999



Los Angeles Elections 2017


Turnout figures for recent L.A. city elections show people aren't naturally excited about local politics. It's always worth noting that the choices voters make in these "small" elections are crucial because local government can affect people's lives in bigger ways than state or federal government does.
L.A. needs outside voices in City Hall, so give all of the candidates a look. Candidate lists are available at http://clerk.lacity.org/elections/candidates, and fundraising information and links to candidates' campaign literature is at https://ethics.lacity.org/campaignfinance.cfm.

Final 8 Los Angeles Mayoral Candidate for 2013